Born Learning Trails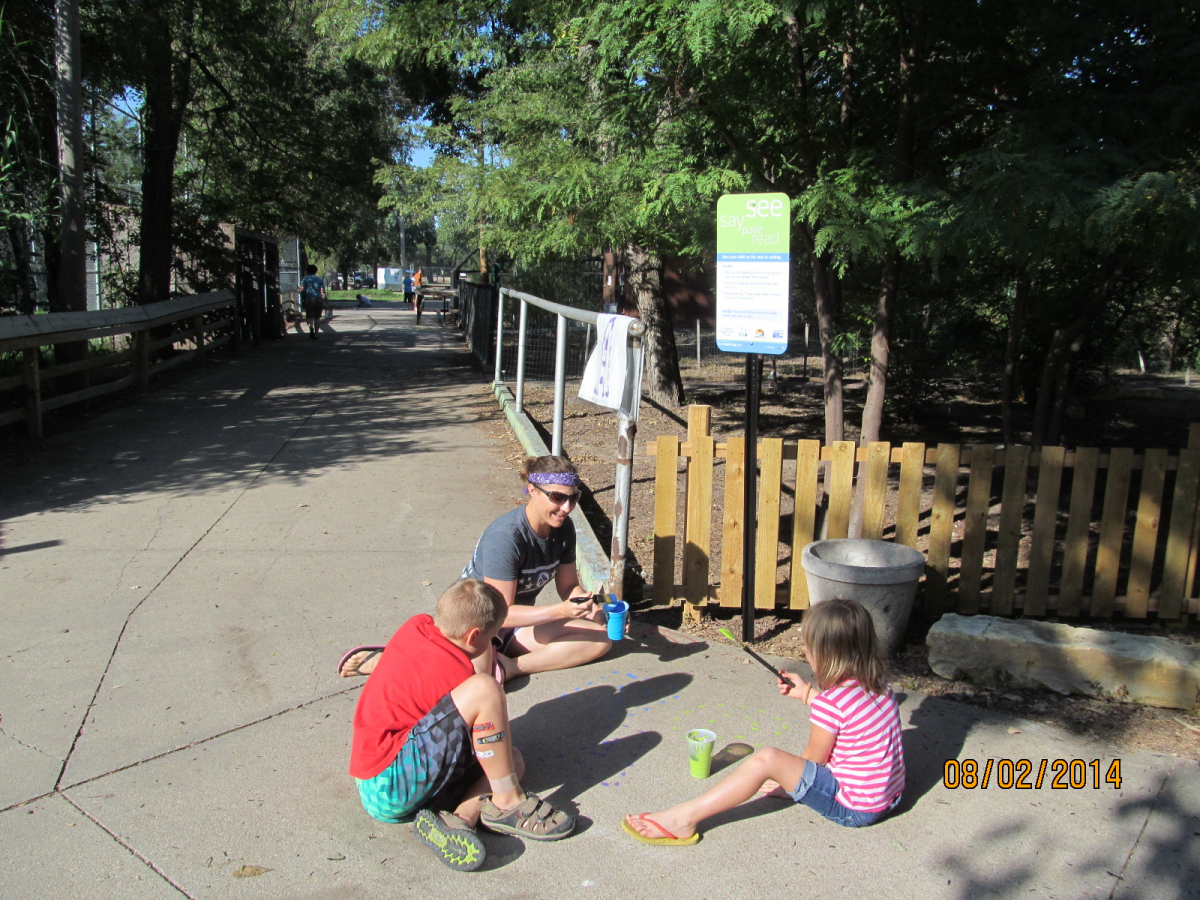 United Way of Central Kansas, along with the Barton County Young Professionals, the Thelma Harms Trust, and the City of Great Bend brought the Born Learning Trail to the Brit Spaugh Zoo in Great Bend, and to the City Park in Claflin.  Take your children to the Zoo or the Park to experience this interactive learning tool for parents that can be played while enjoying the animals at the zoo or taking a nice walk in the park.
Crunch Out Obesity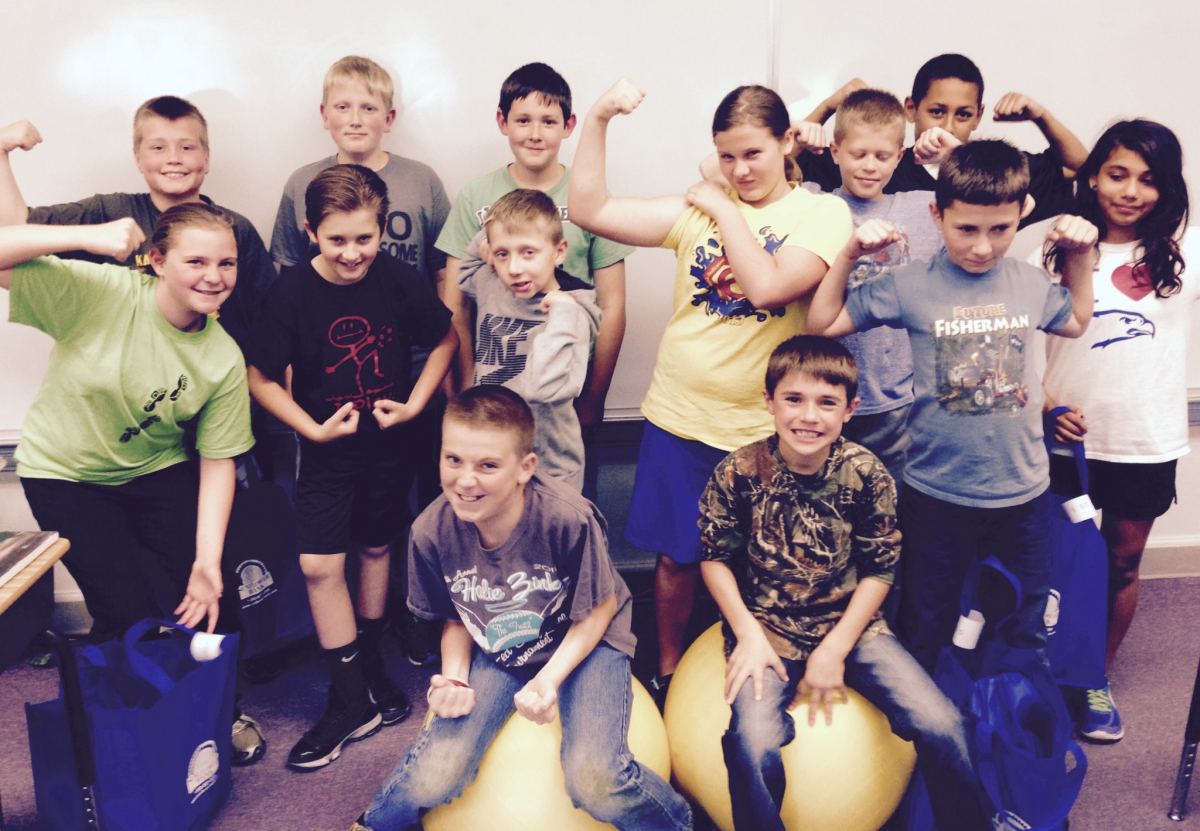 United Way of Central Kansas partnered with Sunflower Bank, Golden Belt Community Foundation, Dr. Charlie & Denise Joslin, Ellinwood Rec Center and Central Kansas Therapy & Sports Medicine to bring a new program to the Ellinwood community.  Crunch Out Obesity was introduced in the Ellinwood Middle Schools to promote a healthy and active lifestyle.  This program encourages our youth to "Get on the Ball".  Students were provided with exercise balls, jump ropes, water bottles, and exercise & nutrition journals to keep track of how they are doing.  This program lasted 6 weeks and offered prizes for the students who completed their logs.
Literacy Kits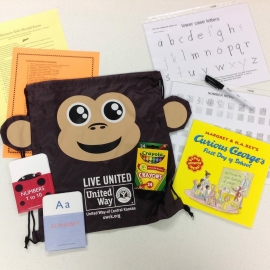 United Way of Central Kansas has organized, prepared, and distributed Literacy Kits to area schools since 2016, averaging nearly 400 kits each year.  These kits are designed to help Pre-K students and their families get ready for Kindergarten and spend quality time together before the children head off to school.  The kits include a book, worksheets to practice writing their alphabet, flashcards for numbers and letters, and lists recommended by the local Kindergarten teachers to help the students be prepared to enter school; all in an adorable monkey drawstring bag.  United Way of Central Kansas distributed these at all the Kindergarten Round-Ups in Ellinwood, Hoisington, Larned, & Great Bend to all the children who attend their Round-Up. 
Box of Love

United Way of Central Kansas brought a new Community Impact Project to the area in 2017 with a Box of Love.  Working with ElderCare, Meals on Wheels, and Golden Belt Home Health & Hospice, 150 Valentine's Day boxes were delivered to homebound seniors in Barton County.  With the help of Volunteers in Action/RSVP, athletes from Barton Community College put these boxes together full of donations from the community.  Each box was then topped off with homemade Valentines made by Great Bend Children's Learning Center, Caring Hands Daycare, and Girl Scouts of Kansas Heartland, with even more made by children in the community who wanted to help.  United Way recognized that there are numerous youth projects in the area, but little was being done for the seniors, and decided that this would be a great way to show these members of our community that we care and that they are important to our community.  Box of Love started out as just covering Great Bend, but due to the huge success of the program, boxes were also delivered in Ellinwood and Hoisington the first year of the program.  Due to the huge success our first year, this program was expanded into Pawnee County in 2018. We owe a huge thank you to all the community members who donated, the businesses that were drop off locations, and churches that embraced this project and made generous donations to get these boxes in the hands of so many in our community. 
Reality U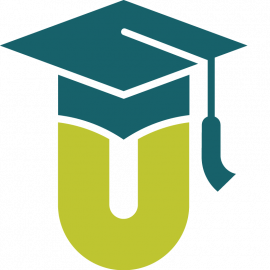 The United Way of Central Kansas has brought Reality U, from the Pando Initiative to Great Bend and a combined event which includes Central Plains, Ellinwood, Hoisington, Larned, Otis-Bison, and Pawnee Rock.  This event teaches students what life will be like after school, in the "real world". Students take a short online test with questions about their GPA, what they hope to be, whether or not they will be married, and if they want to have children.  These questions help the Reality U program determine how much the students would be earning and their life situation at age 26.  Then reality strikes and it is time to go shopping for the necessities in life.  Throughout the day students go to each of 12 booths including car insurance, childcare, utilities, housing, medical, and utilities.  At each of these booths, they have decisions to make about how much of their money they will spend and what they need.  If they go over budget, they have to figure out where they can cut expenses to make sure that they are within their budget.  There was also be a "Chance" booth where they rolled the dice and they may have had to replace a hot water heater or have a broken leg that they haven't budgeted for.
Throughout the day there are also numerous speakers talking to the students about how the choices that they can make now can and will have an impact on their lives at 26.  Some of these topics include the Cost of Delinquency, Where Does My Money Go?, and the Reality After High School.
Dolly Parton's Imagination Library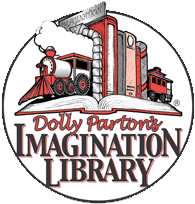 Dolly Parton's Imagination Library is a great way to introduce children to reading and encourages families to read together.  Each month a book is delivered, for free, to residents within a zip code, for all children 0-5 who have enrolled at their local public library.  These books include lessons for the parents to teach their children, and are geared to the child's age and gender.  Individual families cannot sign up for this program, it must be ran through a community organization to ensure that children, no matter the income level of their families, has access to books.
Studies of the Imagination Library show a positive and significant impact in regards to childhood early language and math development, regardless of demographic or socioeconomic factors.  By increasing a child's access to early literacy materials, the child is more prepared for Kindergarten.  Kindergarten readiness is linked to future academic achievement and success later in life, which can impact the community in terms of better test scores throughout schooling, lower high school drop-out rates, and lower unemployment rates.  The Imagination Library also has been shown to encourage parents to read to their children, increasing bonding time and laying the groundwork for high quality child-parent interactions and increasing the consistent involvement of the parents in the child's learning and development, which again increases future success for the child throughout school and life success. 
If you see the importance of early childhood literacy, and would like to make a difference in the life of a child in Central Kansas, you can make a donation to United Way of Central Kansas to help us support this program.  With a donation of just $30 a year, you will be making an impact.  All you have to do is send a donation to UWCK and note that you would like to support Dolly Parton's Imagination Library. 
Stuff the Bus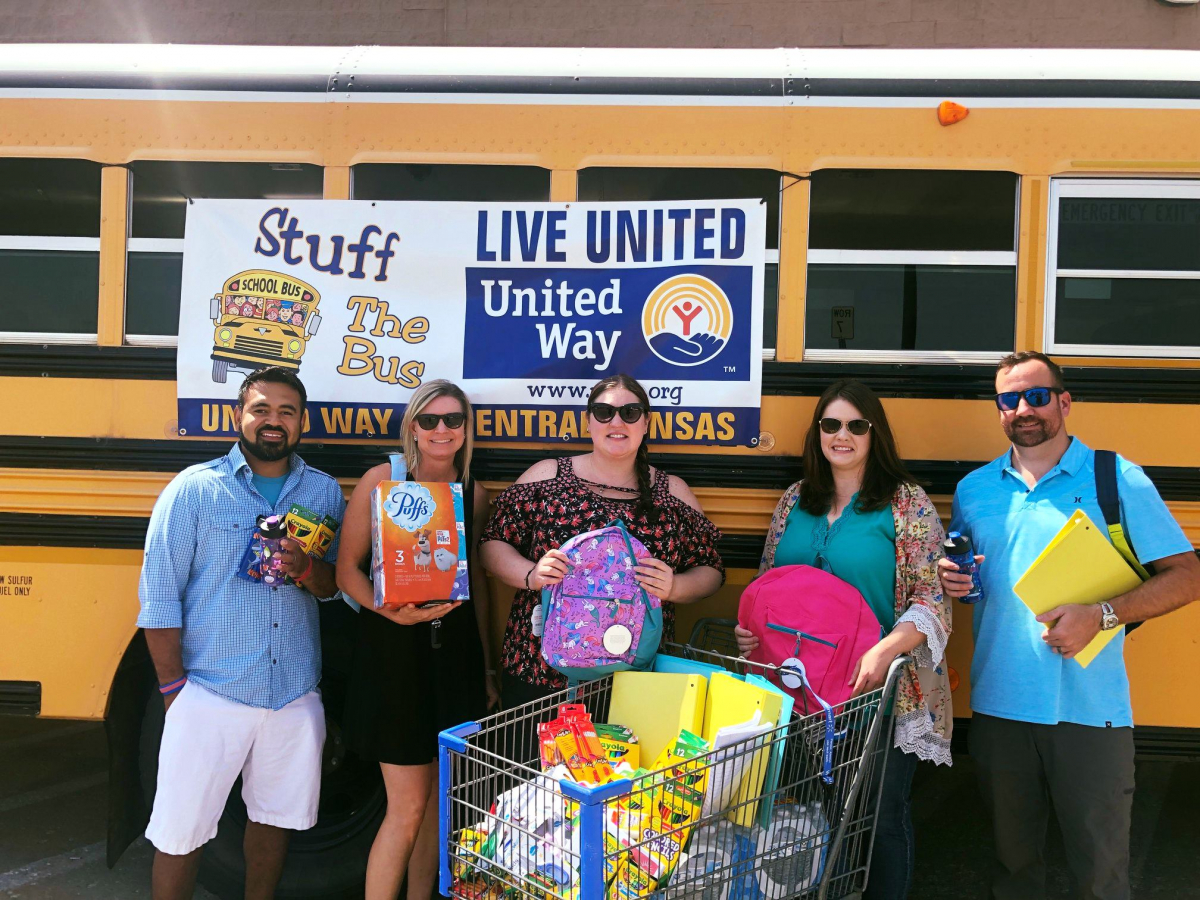 Stuff the Bus makes its rounds every year through Barton & Pawnee Counties. Stuff the Bus has been a part of the fundraising efforts, led by United Way, and helps to provide much needed items for their 23 Community Partners in Ellinwood, Great Bend, Hoisington, & Larned.  Dianne Call, along with Kay Wilbur, Tama Hanson, and Toni Schneweis volunteer their time to organize this event, and then sort all the items and divide them out for each of the agencies. This event helps to lighten some of the financial strain on these amazing non-profit organizations and more of their funds are able to go towards helping those in our communities. 
Camp Pawnee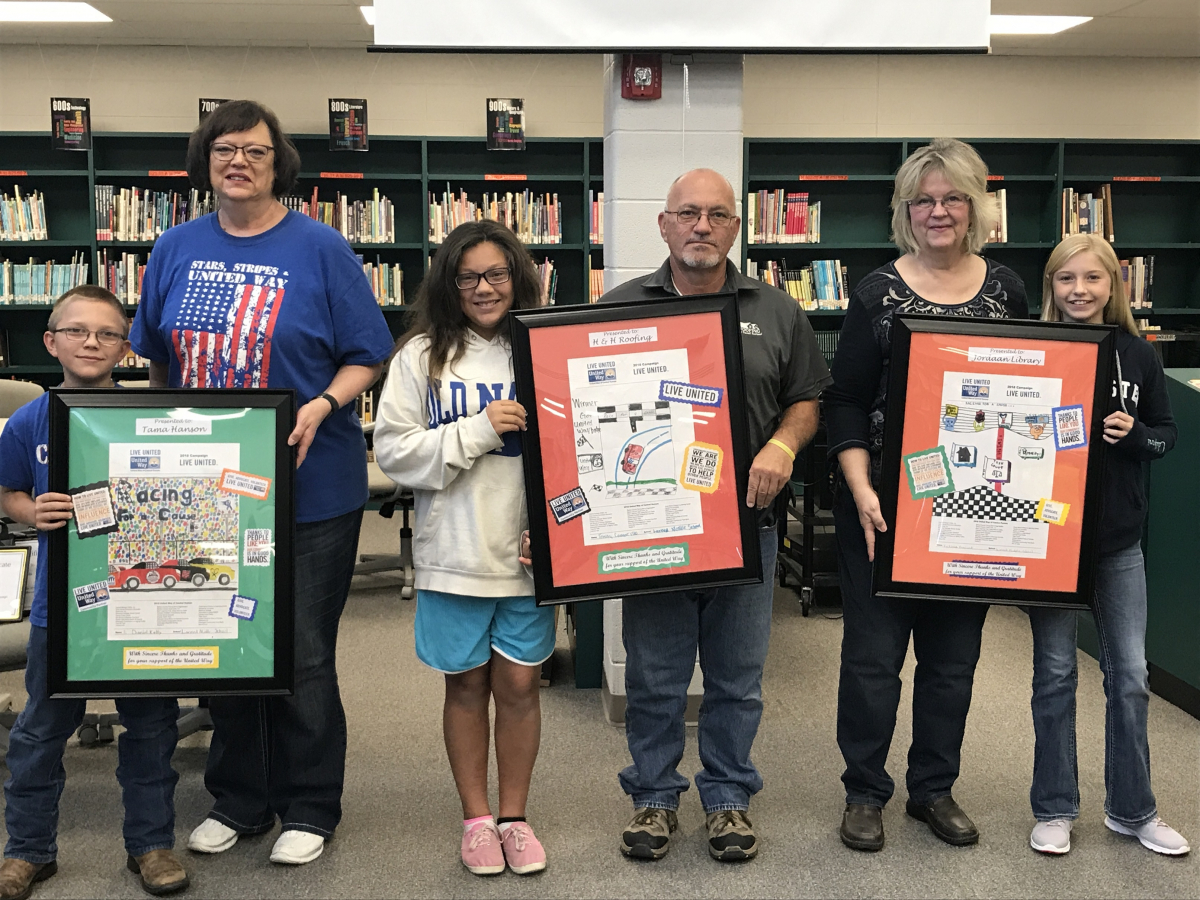 In 2012, the United Way of Central Kansas supported Camp Pawnee with an allocation of $2,000 to help towards costs of a new playground.  In conjunction with Larned Pride and The Camp Pawnee Revitalization Project, a matching donation was provided by the United Way after a successful benefit was held that raised $3,257.  This new playground equipment and the many other upgrades that were made at Camp Pawnee are still being enjoyed today.
Central States Scout Museum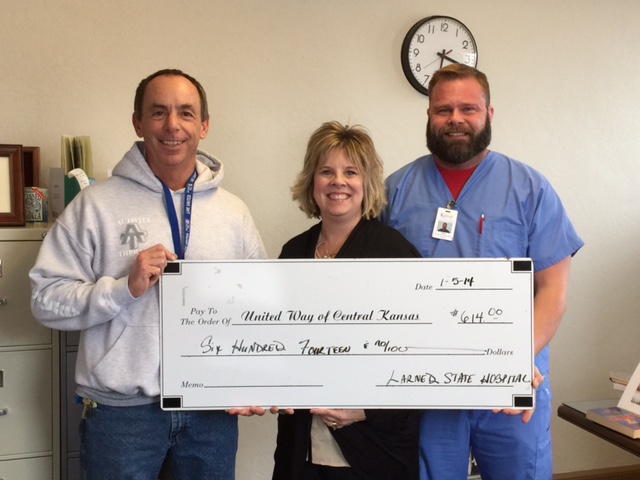 In 2014, the United Way of Central Kansas allocated $3,000 to the Central States Scout Museum to help cover the cost of upgrading the lighting and wiring for the building.  The Central States Scout Museum has a large collection of scouting memorabilia.  Complete with several letters, photos, and original drawings from scoutings' founders Baden Powell, ET Seton, James West, and Dan Beard.  The museum also provides scouting equipment and clothing for new scouts.  The United Way of Central Kansas felt that this organization was important to Pawnee County and was honored to be able to help them.
Parents As Teachers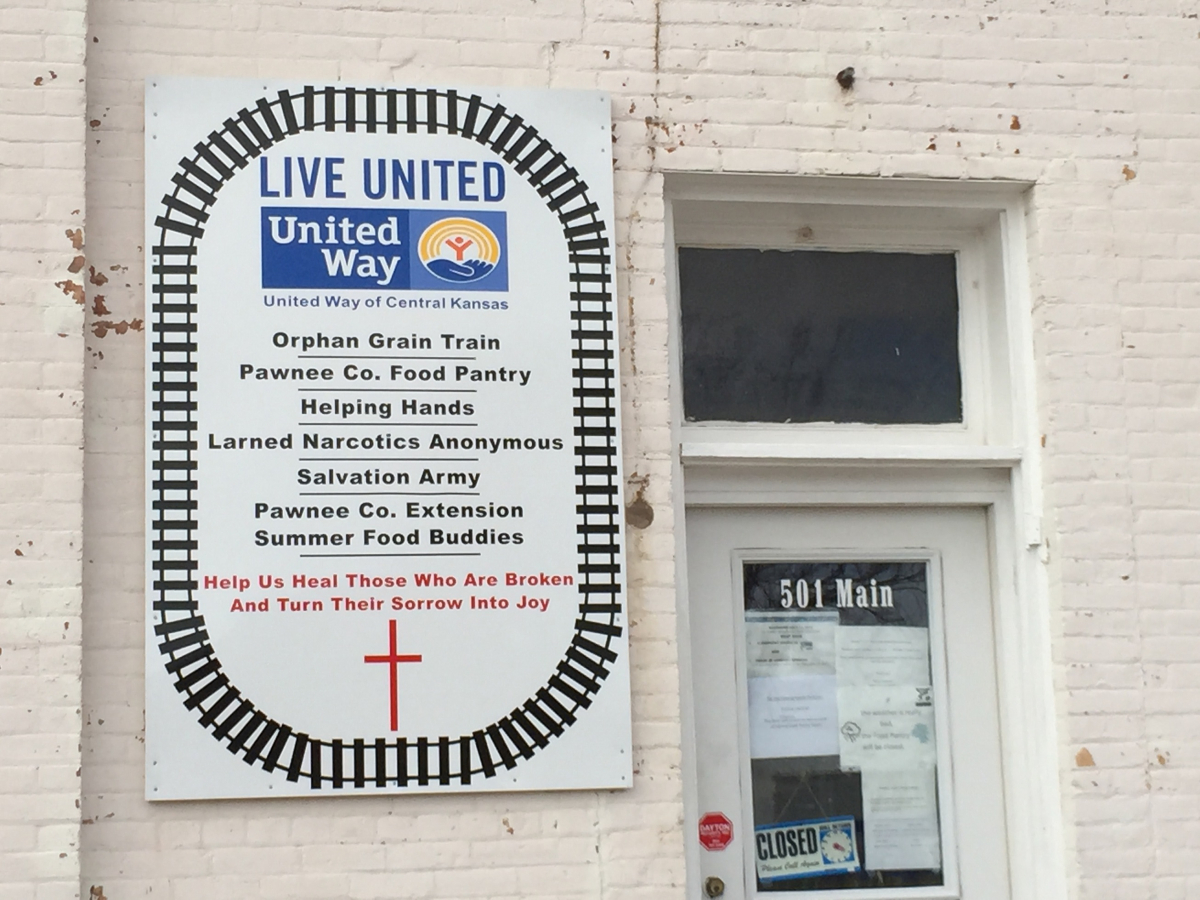 In 2014, the United Way of Central Kansas teamed up with Parents as Teachers to make hearing health a priority for USD 495 families.
The Otoacoustic Emissions Screener (OAE) is a highly reliable hearing screening method that has helped identify a wide range of hearing health needs, including middle ear infections or permanent hearing losses that might not be detected until a child reaches Kindergarten.  These conditions can have a significant negative impact on the social, education, and developmental progress of a child when left untreated.
The total cost of the OAE Screener was $4,628 and between the money raised by Parents as Teachers and the United Way of Central Kansas, the amount was raised and the OAE Screener was being used within the program by the July 1st deadline.
Welcome Inn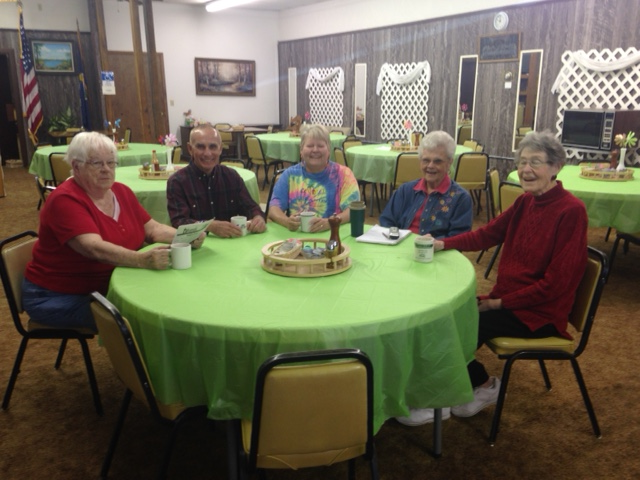 The Welcome Inn Senior Center is a place for the senior citizens in Larned to get together, enjoy meals, exchange stories, and play cards.  The tables that were being used were very heavy and were rectangular.  The ideal situation was to get new tables that were lighter and circular, to facilitate more conversation.  The United Way of Central Kansas, along with Doer's Ace Hardware helped to make this a reality.  They got 12 new, round tables and have been enjoying them ever since.